FINANCE

OPPORTUNITY
A company such as Euronext, that manages regulated cash and derivative markets such as equities, bonds and raw material derivatives, wanted to create new products and, more precisley, cash settlement contracts on markets that do not allow access to financial markets, such as feed barley and durum wheat.

SOLU

TION
We have created durum wheat and barley benchmark indicators that meet the standards defined by the European regulator of financial markets, ESMA, using a tried and tested method. Our indicators will be the underlying guarantee of our client's contracts as they mirror the markets we address. End investors will therefore be able to use them to manage their price risk confidently, as ther will be a clearing house that guarantees counterparty risk.  

RESULT
Sitagri Index Services brings greater transparency to the durum and feed barley markets by providing our client's investors with access to hedging tools. All operators in the durum wheat and barley sectors will benefit from our indicators to improve their overall margin.
OUR VALUE PROPOSITION
sitagri index services
Index processing for Euronext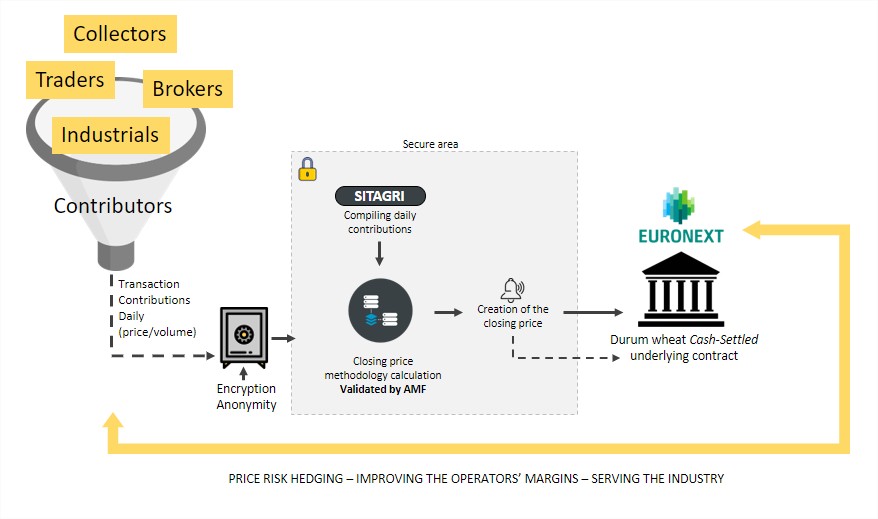 Why

 

choose

 

Sitagri

 

Index Servi

ce

s?
Expertise
Our special relationship with the agricultural sector for nearly 20 years has enabled us to support them in their purchasing and sales decisions. Our daily physical indices are the fruit of this close collaboration. They enable a better understanding of the markets addressed and efficient decision-making.
Independen

ce
We are independent and customer-oriented. We are constantly innovating for the agricultural sector.
Security
The GDPR and the status of index administrator, obliges us to secure all the data circulating in our company in a reliable and perennial manner. Like a bank safe, your data is secure and we are committed to keeping it that way.
Calendar
Sitagri Index Services holiday calendar
2023
Monday 10 April (Easter Monday)
Monday 25 April (Liberation day, Italy)
Monday 1 May (Labour day)
Monday 8 May (Armistice day)
Tuesday 15 August  (Assumption)
Wednesday 1 November  (All Saints' Day)
Monday 25 December (Christmas day)
Tuesday 26 December (Stephen's Day/Boxing Day)
MORE INFORMATION ABOUT OUR INDICES?
THEY

 
TALK ABOUT
 

IT BETTER THAN WE DO!